Occupied
^
The US is not at war with Pakistan.
Yet,
U.S. DRONE ATTACKS KILL uncountable numbers
of people
in the northern part of Pakistan every year
-
most of them
CIVILIANS
.
Ithacans, Daniel Joseph Burns and James Ricks are traveling to Pakistan as part of a humanitarian delegation to meet with the victims of drone attacks and to hear their stories. They will be in Pakistan from October 3-10, 2012, with a group led by CodePink co-founder Medea Benjamin, author of Drone Warfare: Killing by Remote Control and facilitated by Shahzad Akbar of the Pakistani NGO, The Foundation For Fundamental Rights in Pakistan. The group will also participate in a massive march and rally in opposition to US Drone Strikes in Pakistan.


U.S. DRONE STRIKES
Both Danny and James are members of the Upstate Coalition to Ground the Drones and End the Wars. They have both been arrested and gone to trial for their beliefs. Danny served time in jail in December for his beliefs.
For more information, please visit the following websites:
http://upstatedroneaction.org/wordpress/
http://droneswatch.org/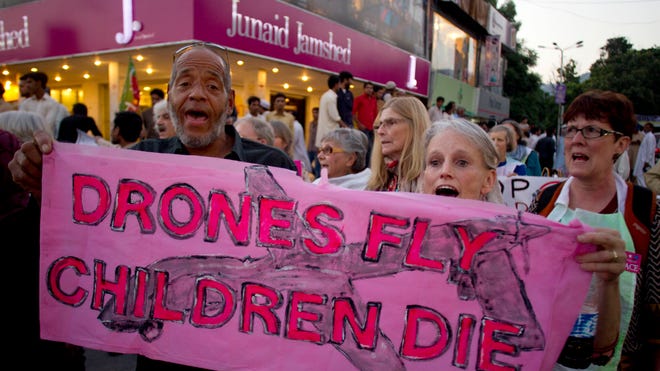 Our own James Ricks and other Americans protest in Pakistan against US drone strikes.