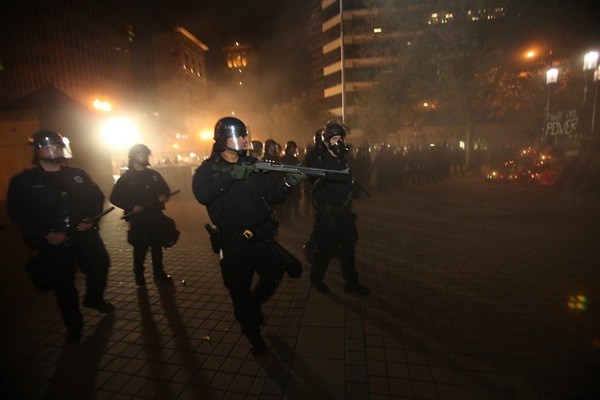 Oakland Police turn their weapons
on a peaceful assembly.
Under the cover of darkness at about 5am yesterday morning, October 25th, the Occupy Oakland assembly was surrounded by riot police from inner and outer jurisdictions, ordered to disperse, then assaulted with police issued physical and chemical weapons. Early reports from local news casters stated that police on site claimed the tear gas came from the protesters. By mid-day however, police officials had no choice but to admit that their department was responsible for the chemical weapons use.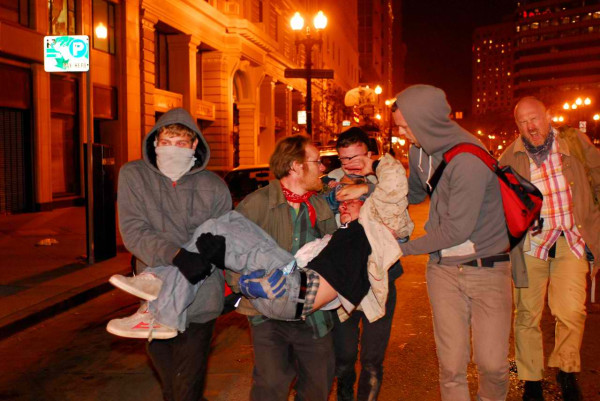 Members of the crowd care for those
struck down by the police assault.
At this point, the department alleged that their overwhelming use of warzone-like force and assault tactics was a matter of self-defense.

"We were in a position where we had to deploy gas in order to stop the crowd and people from pelting us with bottles and rocks," said

Oakland Interim Police Chief Howard Jordan

. While there is currently plenty of video available online of the assault on the protesters - there is not a single shred of evidence available to corroborate these claims by the Police Chief.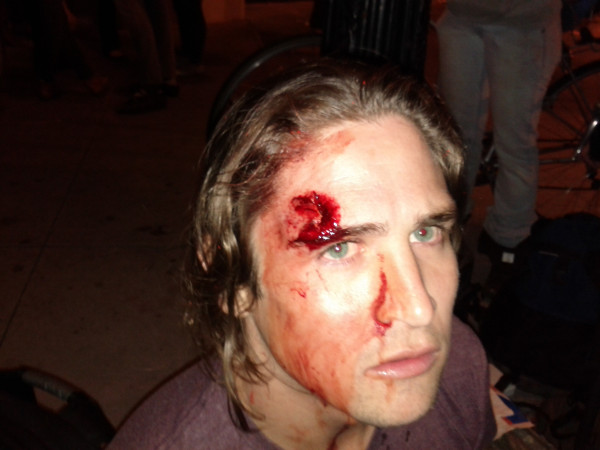 The Police Chief stated publicly that there were no injuries.
Many independent reports from those who were on the scene at the time depict police firing beanbag rounds from shotguns, as well as rubber bullets and tear gas canisters indiscriminately into the crowd, in what seemed to be tactical efforts to overwhelm and subdue them. These are the kind of tactics that may be justified in the case of violent and uncontrollable riots. The only violence that has been caught on tape during the events in Oakland yesterday morning however, was police violence. According to any and all video that has surfaced of the event so far - the only riot that took place, was of the riot police brutally suppressing a peaceful assembly.
Though there has been no evidence to support the Oakland Police Department's claims of protesters throwing anything at all, news media has been either too lazy to check the facts of those claims before repeating them - or they are consciously complicit in propagating the unfounded rumors.
When questioned by members of the peaceful assembly about why their group had just been assaulted by police forces using extreme tactics, the officers on the scene did not have much to say. However, not a single pair of their eyes looked proud, confident, or sincerely justified. Many of them could only look away.
Police are questioned by the people in the aftermath. A Veteran for Peace was shot in the face - here at home
Oakland Mayor Jean Quan was outside of the city at the time of the assault, but she had authorized it. While she claims to support the rights to speech and protest of the peaceful assembly, she apparently also claims the right to violently suppress them by way of riot tactic dispersion and arrests. An interesting paradox.
Since her authorized assault on Occupy Oakland, Mayor Quan's facebook page has been very active. Many of those commenting have alleged censorship of their comments by the Mayor's facebook page admin. While at this point such censorship from her office cannot be a surprise - at least on the Mayor's facebook page the censorship is not coming by way of chemical weapons.
This is what it looks like when the people have to run from the police.
Here are some other options for expressing your disgust and discontent with her administration's assault on human beings - and the freedoms of speech, protest, and peaceful assembly...
Richard Cowan
Special Assistant to the Mayor
Community Services ManagerEmail: RCowan@oaklandnet.com
Phone: (510) 238-3990
Drew Lisac
Senior Policy Advisor for Economic Development
Email: dlisac@oaklandnet.com
Phone: (510)238-7167
Sue Piper
Special Assistant to the Mayor
Mayor Communications ManagerEmail: SPiper@oaklandnet.com
Phone: (510) 238-7439
Arturo Sanchez
Special Advisor on Public Safety from the Office of the City Administrator
Email: ASanchez@oaklandnet.com
Phone: (510) 238-7542